Sometimes life gives you lemons and you don't know how to make lemonade – and that could be where a responsible personal loan can come to the financial rescue. Whether it's an emergency, home repairs or unexpected expenses – chances are that you are applying for a personal loan because you don't have the funds right now.  
But how do you know what you can afford? A personal loan calculator is a good bet to see how much you can afford to pay back.
Not sure where to even start? Well, we've done the groundwork for you, by answering everything you need to know about personal loan calculators!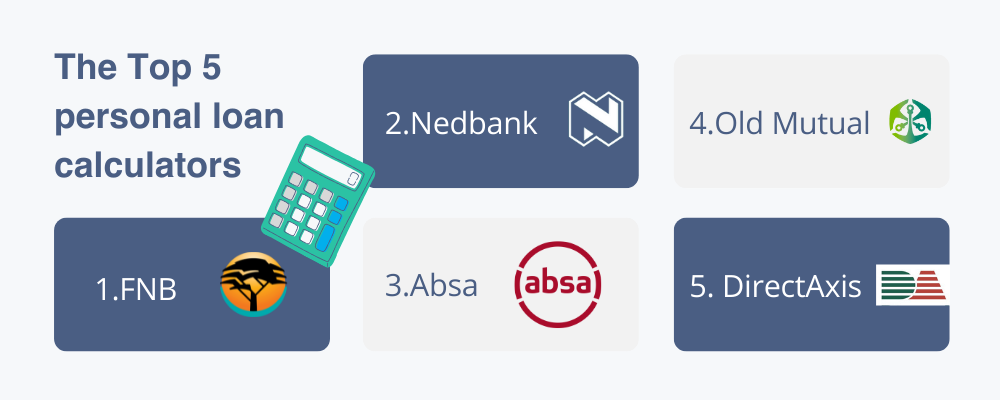 Let's have a look at the 5 best personal loan calculators in SA right now:
1. FNB
Whether it's your larger planned expenses or smaller once-off emergencies, FNB offers simple and easy personalised credit for consumers. The reputable South African bank, can pay out credit up to R300 000 within minutes if you bank with them. In addition to that, interest rates can start as low as 12.75%* per annum. They offer fixed repayments so that your repayment amount stays the same each month with up to 60 months to pay.
Now, if you are keen on taking out a loan with them, the FNB personal loan calculator will give you an indication of what you can afford.
2. Nedbank
Nedbank is a trusted South African bank offering a number of different financial products. Promising honest guidance, there are no hidden fees with their personal loans, just clear pricing and payment plans. You'll be able to apply for personal loans from as little as R2000, to as much as R300 000. Repayment terms are personalised to your needs, from 6 to 72 months.
Nedbank's personal loan calculator allows you to enter an amount, preferred repayment term, and if you'd like to add insurance to your repayment. After you've added this you'll be able to see the amount you'll need to pay back each month, the total repayment amount and the interest rate you'll receive.
3. Absa
Absa is a cutting-edge South African bank, with a promise to offer more products and better services. If you want to "get your money fast", their personal loans are flexible and personal loan interest rates start from as low as 13,75%. Absa bank claims to have the widest range of personal loan amounts, where you can get funding up to R350 000, and terms up to 84 months.
If you want to calculate the monthly repayment amount on a loan, the Absa personal loan calculator is pretty easy to use and understand. Not sure how long you'll need the personal loan for? Their calculator lets you adjust the term from 'shorter' to 'longer' periods so that you can compare the repayment amounts and total repayment.
4. Old Mutual
A wise bank once said "The day your fridge stops working is never the same day you get a surprise work bonus", and Old Mutual knows a thing or two about personal finance. The bank allows clients to borrow up to R250 000, where you pay back a fixed amount over whatever timeframe works for you. Transparency is at the core of their personal loans, where you'll be able to see all the personal loan terms and costs upfront.
Old Mutual places your loan amount as the most important factor to consider when choosing a personal loan. The best thing is that the Old Mutual Personal Loan calculator is very simple, all you need to do is say how much you need, and they will guide you along with the next steps.
5. DirectAxis
DirectAxis is a South African financial institution, offering personal loans from R5000 up to R200 000. The lender offers a quick turnaround time to non-existing clients as well. If approved, the loan should enter your bank account in 48 hours. To make it that much easier to digest, they've given consumers a couple of helpful and entertaining stories about how a personal loan from DirectAxis is achievable.
Want to know how much a loan from the lender will set you back? The DirectAxis personal loan calculator has an easy to slide bar, where you can automatically see the monthly repayment amount and initiation fee.
Bonus personal loan calculators:
There are some banks that didn't make our top five list but are still worth the mention as they offer great personal loan and easy to use to personal loan calculators in South Africa.
African Bank
African Bank is a local bank dedicated to creating products that are relevant for their customers, with the aim of helping uplift South African's financial status and well-being. The African Bank Personal Loan calculator lets you plan your loan repayments, all you need to do is use their slider to select the amount and repayment term, and then the calculator will calculate the monthly repayment amount.
Fasta
FASTA is an online consumer finance business that offers customers a range of financial services products both directly as well as through partnerships with leading retailers and online merchants in South Africa, Fincheck being one such partner. Their goal is to deliver innovative payment solutions to consumers. Scroll down on their home page to the FASTA personal loan calculator, where you can calculate your instalments based on your loan amount, with the option to pay 1,2,3 instalments.
Need a one-stop-shop financial calculator portal?
We've created a financial calculator portal to make your financial decision making that much easier. With our home loan calculator, tax calculator or vehicle finance calculator, you'll be able to make smarter choices about what you can afford and should be paying.
Frequently Asked Questions about Personal Loans
How do personal loan calculators work?
A personal loan calculator is an online tool that allows you to input your personal information into it and it will calculate how much you can borrow, how much interest you would be paying on it, and what your monthly repayments would be. Most banks offer personal loan calculators so you can see whether or not you can afford the loan products.
Using these calculators will help you with your budget and financial planning – so it's a good idea to start off by using one.
How is interest calculated on a personal loan?
Each month you'll be required to make a loan payment, this amount is made up of two parts:
A portion that goes to the lender (this is the interest on the loan)
A portion that goes towards the balance you have loaned (this is the loan amount received)
Interest rate calculations explained:
Principal loan amount x interest rate x time = interest
An example of this is if you take out a 5-year loan of R200 000, and the interest rate is 7 percent, this is how it would work in practice:
R200 000 x .07 x 5 = R70 000 in interest
How to qualify for a personal loan with bad credit?
Applying for a personal loan with bad credit may seem impossible, but you can do a couple of things to improve your financial health to ensure you qualify for a loan. Here are 5 quick steps:
1. Improve your score (if you can)
2. Shop around
3. Find someone to co-sign
4. Use your business lenders
5. Explore alternatives
For more tips and tricks on how to qualify for a personal loan with bad credit, read our blog post.
When Are Personal Loans a Good Idea?
Personal loans are one of the most common types of loans and can be a great way to get some extra cash when you need it. But before you sign up for a personal loan, make sure that you understand all of the details about them. It's only a good idea when you really need it and when you've fully analysed your financial situation. A personal loan could be used for anything, whether it's a vacation, wedding, emergency medical bill or home renovation – the possibilities are endless.
If you are unsure about your financial well-being, it might be time to get your credit health back on track with our course.

What credit score is needed for a personal loan?
Credit score requirements vary from lender to lender, and in South Africa to qualify for a loan you'll need a decent credit score. Scores range from 330 to 850, a higher credit score means you are a more responsible borrower, and lower scores suggest you may be less responsible. Here is a loose idea of how credit scores are viewed by creditors.
800+ – Exceptional 
740 to 799 – Excellent
670 to 739 – Very Good 
580 to 669 – Good 
579 & below – Poor
You are most likely able to qualify for a personal loan if you have a credit score above 579, however, there are some alternative lenders who offer loans for lower credit scores. To find out more about credit scores, read our blog post on credit reports.
What is the average personal loan interest rate in South Africa?
Personal loan interest rates vary quite drastically in South Africa, and these rates are dependent on the lender, credit score and income of the applicant. On average rates range from 4% to 36%, and an interest rate below 10% is considered very good.
Which bank has the lowest interest rate on a personal loan in South Africa?
A low-interest personal loan is at the top of everyone's requirements when applying for a loan. So we've done some of the groundwork for you with our pick of the top 5 local banks leading the way with low-interest personal loans:
African Bank
FNB
Nedbank
Capitec
Absa
Not only do these banks offer low-interest personal loans in South Africa, but they continue to come up with forward-thinking ways to offer their clients more benefits and better services.
Read more in our blog post about the top 5 banks for low-interest personal loan.