Buying a car is a big deal. With so many car loan options to choose from you might find it tough to decide. But when the time comes to purchase a new car, buying the car you want with the best car finance provider can make all the difference in the world. We will walk you through the best traditional banks & lenders and alternative lenders providing car financing in South Africa.
Ask yourself the difficult questions first…
Before we get to the top picks of car finance lenders in SA, be sure to ask yourself a couple of tough questions. Purchasing a car and using vehicle financing to do so is a huge financial decision and risk, so we want to make sure you know all the facts before starting the journey.
What is vehicle finance?
Vehicle finance is the process of borrowing money to buy a car. It's a type of secured loan where the borrower will either buy the car privately or from a dealership. This type of finance is specifically structured for financing a car and cannot be used for other types of purchases. Car loan products are mostly only available at banks, financial institutions or alternative lenders that specifically list it as a product. You will usually take out car finance when you do not want to take on a huge once-off expense of a car, but still want to be able to get from A to B in your own vehicle. Car loan monthly instalments make it possible for many South Africans to have a car without using all their precious savings that can rather go towards an asset like a home.  
If you want to know everything there is to know about vehicle finance in South Africa, read our full guide.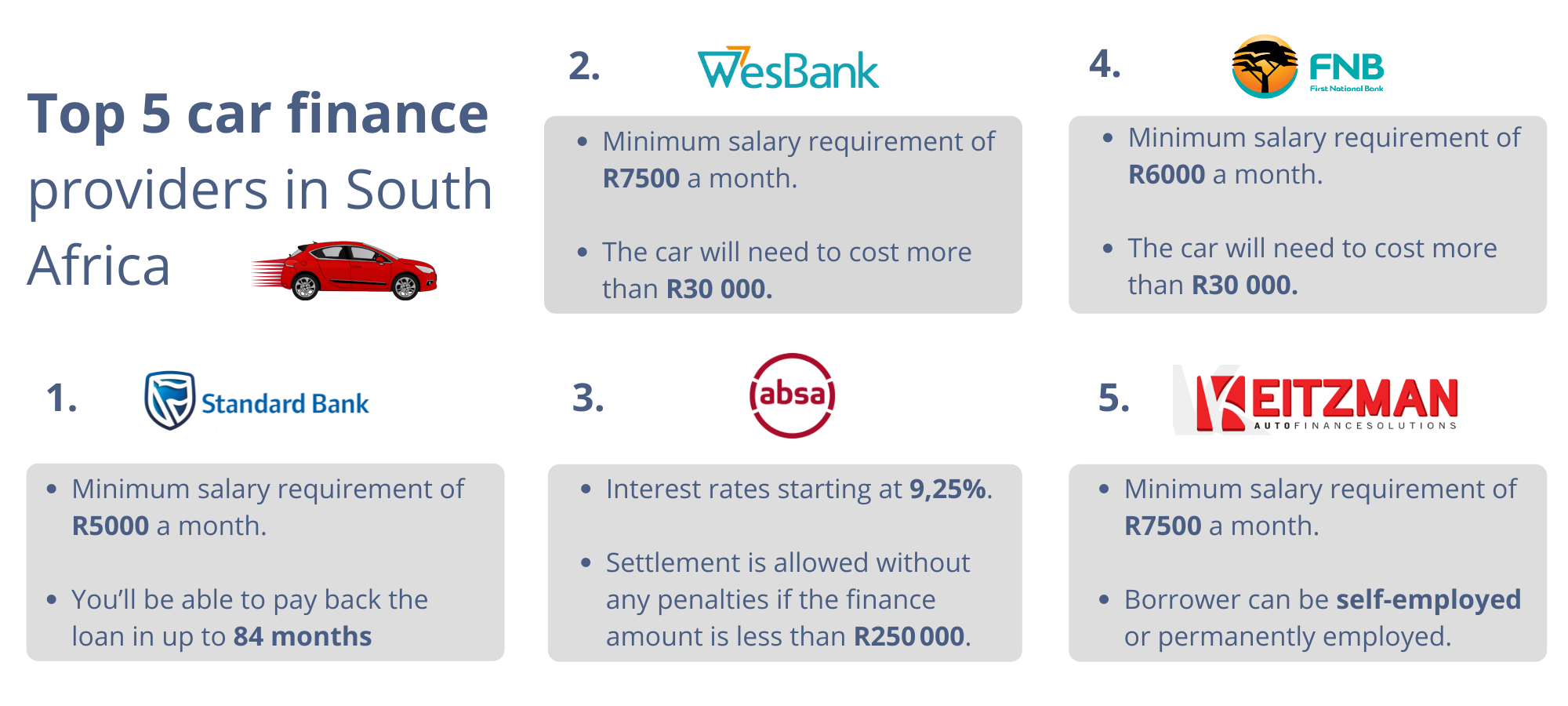 Why should you finance a car?
We are pretty sure that most South Africans would like to finance a car in cash, but the reality is sometimes it isn't a smart financial decision and taking out a car loan is more viable. So you may be asking yourself "why should I get a car loan in South Africa?"
Here are 3 reasons why vehicle finance is a good decision:
1. Spend money on assets that can grow
If you take out a car loan, you'll be able to save up for buying a house or investing in shares or other assets that will appreciate with time.
2. Build up a healthy credit score to get car finance
Taking out car finance and paying it back on time each month, helps you build a good credit history and will allow you to be able to take out future loans. Try and get your credit health back on track.
3. 100% of the car loan can be borrowed
Whether you have money saved up as a deposit, or you don't want to make any initial contribution, car financing allows you to finance 100% of the car purchase.
What is the best car finance in South Africa?
This is not a simple answer. Especially when it comes to the number of car finance providers available in South Africa. We like to remain unbiased at Fincheck, so instead, we are going to give you the rundown of the 5 best car loan lenders in South Africa, both traditional and alternative lenders.
Why should I shop around for car finance?
But there's more to it than just that. You need to make sure that your vehicle finance is the best option for you. So what should you be looking for? Shopping around for the best vehicle finance deal can help you save money and find a more reliable financing provider. The interest rates and fees from different providers may vary, so it's important to compare your options before making any decisions. At Fincheck we do the groundwork for you with our finance marketplace, allowing you to compare vehicle finance offers in 3 quick steps.

Top 5 car finance providers in South Africa
We've decided to do the ultimate roundup of the best vehicle finance lenders in South Africa, both traditional banks and lenders, and alternative lenders.
Traditional car finance lenders:
1. Standard Bank Vehicle Finance
Standard Bank Vehicle finance, is structured in two different ways: vehicle finance instalment sale, and vehicle finance leasing. With an instalment sale, you will be able to buy the vehicle you want and pay off the car with regular instalments over a period of time decided by you and the lender. Before taking out Standard Bank car finance, the bank will do a full credit assessment on you. If you want to apply for a car loan or vehicle lease with them, you'll need to earn a minimum of R5000 a month. Furthermore, you'll be able to pay back the loan in up to 84 months. Make use of the vehicle finance calculator to see what you can afford. Make use of their three different Standard Bank vehicle finance calculators: affordability, purchase price and monthly repayments.
2. Wesbank Vehicle Finance
Wesbank, have made the vehicle finance process as easy to understand as possible, with their helpful guide and mobile app, Wesbank Vehicle Finance makes the car-buying journey so much simpler. The bank has a slightly higher minimum wage requirement of R7 500 a month for potential borrowers. What sets Wesbank apart from its competitors? It's their one-stop-shop offering – W-shop allows you to buy tyres, windscreen wipers and even personalised number plates for your car. Another Wesbank will provide a car loan given the car costs more than R30 000. The Wesbank Vehicle Finance calculator is simple and gets you the information you need about what car you can afford quickly.
3. Absa Vehicle Finance
Get your dream car quicker than you thought with Absa Vehicle Finance. The bank promises to find the best car within your budget. With a competitive interest rate starting from 9,25% and a repayment period of 24-72 months, there is no doubt of that. With Absa's vehicle finance solutions you are able to reduce your monthly payments either with a balloon payment or by paying a deposit. Another added benefit is that early car finance settlement is allowed without any penalties if the finance amount is less than R250 000. In South Africa, you need vehicle insurance if you want to finance a car. So the the bank made it that much more convenient with insurers they have partnered with in-house. If you need some help calculating what loan you can afford, make use of the Absa Vehicle Finance Calculator.
4. FNB Vehicle Finance
First National Bank has expanded their vehicle finance, and whatever you wish to drive, fly or ride they will finance. FNB's 3 vehicle finance options include dealership finance, private vehicle finance and leisure finance.
Let's break down FNB's vehicle finance offerings:
Dealership finance – you'll be able to buy a car from a dealership that is up to 10 years old. The minimum salary requirement is R6000 a month, and you'll need to be permanently employed. Finance vehicle from as little as R30 000 after making a deposit.
Private vehicle finance – FNB's hassle-free car finance, allows you to buy a car from a private owner that is up to 20 years old. With the same requirement of earning 6k a month.
Leisure vehicle finance – this is purely a vehicle for recreational or holiday purposes e.g. a motorbike, caravan or vintage convertible. The "vehicle" will need to be bought from a dealership and in the case of a caravan, it can't be older than 20 years old.
Now that you know your options when it comes to financing a vehicle with FNB, use the FNB vehicle finance calculator to see what your repayment costs will be.
Alternative vehicle loan lenders
5. Keitzman Vehicle Finance
Keitzman is an alternative auto financing lender, which means they work with five of the major South African banks to get pre-approval – after which you'll be able to choose the car of your dreams. The dealership offers vehicle finance with quick loan approvals and low instalments guaranteed. An added benefit of working with Keitzman is that they ensure the vehicle is accident-free and roadworthy.
As one of our lenders at Fincheck, they are an efficient and reputable vehicle finance provider. Whether you are self-employed or permanently employed by a company, Keitzman Vehicle Finance is a great solution for those looking to buy a car within their budget. You'll need to be earning upwards of R7500 to qualify for a car loan. In addition to that, no deposit is required, which is fantastic news for those who don't want to cut into their savings. Keitzman pride themselves on going above and beyond to get vehicle finance tailored to your financial needs.  
Frequently asked questions about car finance:
How are vehicle finance interest rates calculated?
Your car loan interest rate will either be calculated using a fixed or variable rate. The interest rate for vehicle finance is calculated using a number of factors. Let's break them down:
Length of the term – which is the period over which payments are made.
Amount borrowed – which is determined by the value of the vehicle and any extras that may be included in the purchase price.
Deposit amount – whether or not a deposit has been paid, and if so how much.
Your credit score – which is calculated by evaluating your spending habits, and loan repayments.
Can you afford to buy a car with your salary?
Most auto finance providers in South Africa, offer affordability calculators to ensure you are only taking out a car loan for what you can afford. The calculators are also a great way of knowing the total amount you'll be able to receive from a vehicle finance provider. In general, you'll need to earn upwards of R5000 to take out a car loan, with most vehicle finance providers expecting you to pay down a deposit on the car.
What's the difference between car finance and car leasing?
A vehicle leasing agreement is not a vehicle finance solution but rather a leasing agreement similar to leasing a home. You will need to make an initial rental payment as a deposit and ongoing rental payments. This ensures access to a vehicle but not to a car you can own. This agreement is more suited for someone who either needs a vehicle for a short time period or someone who does not want to take on the responsibility of a loan in their name. It's a simple solution with few risks and no rewards apart from access to a car.
With car finance, once you've finished paying off the loan, the ownership will be passed over to you, however, with car leasing, you'll never own the vehicle.
What credit score do I need for vehicle finance?
If you are stressing about your credit score and whether it's high enough to take out a car loan, chances are you need to improve it to some measure. Like most loans, the lower the score the lower your chances of getting improved.  
Credit scores are loosely viewed like this by creditors:  
800+ – Exceptional  
740 to 799 – Excellent  
670 to 739 – Very Good  
580 to 669 – Good  
579 & below – Poor 
A credit score above 580 means you will be considered for a car loan.  With a score above 670, the vehicle finance lender will consider you a very good borrower and you'll be seen as less likely to default on your car payments.  
Need help calculating your credit score? Use MyFinceck to find out yours for free.